Overview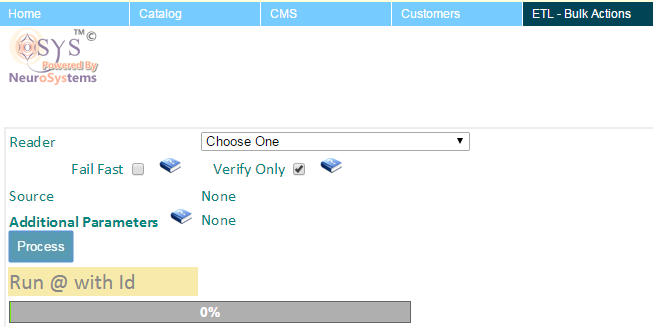 ETL is a tool that allows the admin to perform bulk or time consuming operations that may affect multiple records in one go.
There are unlimited examples of this, but for an introduction the following to name a few:
Bulk import Data from Excel : The platform can directly import data from Excel files, in a format the business feels comfortable with. The platform does not force any type of format onto the business and can be customized to accept any column field mapping structure. However once a format is decided, then the admin is expected to provide data in the same format each time.
Image resize for multiple products : Websites demand optimized images for various pages. It is manually very difficult to sit an optimize each image. This entire process can be automated.
Automated image association using File Name to the product : For example we can have a scheme that relates the SKU Code as a file name to the product. The shcemes can get very complex. Another example maybe, where the same model product is available in different sizes but the image is the same for them all.
3rd Party Integrations Like CDN Integration or Bulk import from another system. For example Amazon CDN Integration for CMS
Any other process that takes time (asynchronous)
Reload Shipping rules/logic on the fly without restarting the system
... etc.