Overview
Content editing is required to change the images or content of any of your dynamic pages. Content is in HTML format. For convenience a WYSIWYG editor is provided that is good for editing, but it is encouraged that a Content Author, learn HTML or atleast basics like formating, links, images etc.




Example of WYSIWYG Editor
However, before you get into HTML you should understand your admin module and how to use the WYSIWYG editor for basic editing. Once you gain a basic understanding of your environment, you can learn more about these basic HTML constructs by visiting the HTML Self learning reference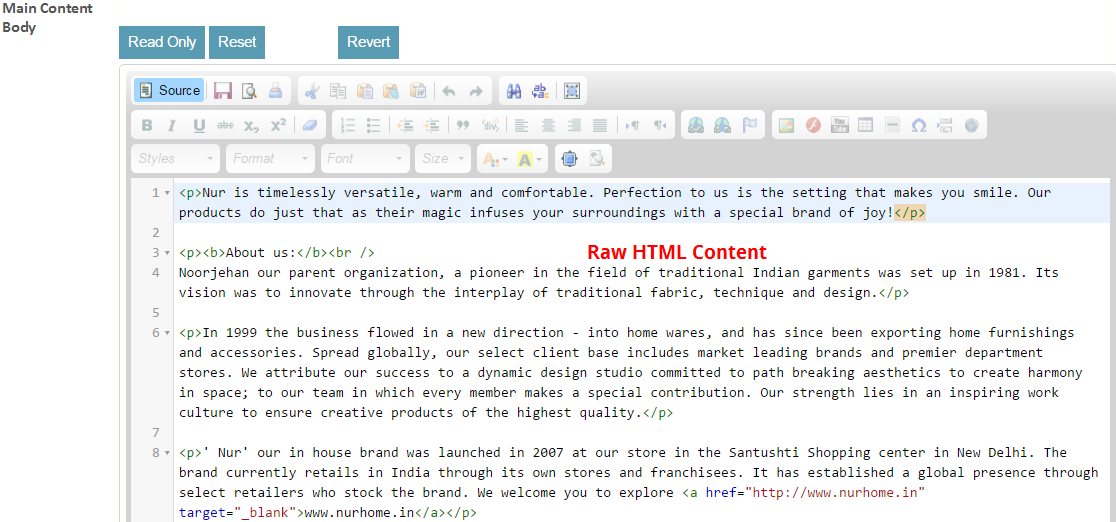 Example of HTML Editing
Page Concepts
To understand what a page is in the CMS one should understand the following concepts:
Template : A design where there is a mix of static pre-styled elements and dynamic content fused in from the CMS. The CMS content author allows one to provide the dynamic content that will be fused within the template design. A template comprises of the following Facets, Static HTML, JavaScript code, CSS style, Special attributes.
Facet : This defines a part or section of the dynamic content to be fused in the template for display for the page. A template contains multiple facets and hence the page contains multiple facets. The content supplied under a Facet is associated with the page, while the Facet Type is associated with the template. A facet can be customized to present custom admin options, help, guide and validations. If a template is changed and a page shares facets between templates, then the content is automatically available in the switched template also. Each facet can be individually saved and reverted (or versioned in advanced projects).
Design & Layout : This is technical in nature and defines the HTML structure, CSS styling of the page along with nay dynamic behavior governed by JavaScript. This is modifiable only by a Web developer with HTML/CSS/JavaScript skills. Hence the template code itself is not available in this section of admin.
Special Attributes : We can associate specal features to templates, like customize their preview URL, or other information we may want to supply to the page that may not be content and may need to be supplied by the Site manager. This helps in more advanced scenarios where we want the page to be influenced by other factors in addition to content supplied by content author.
The following is just an example of a Sample Template page with 3 Facets and some common coded elements. Your final page is a mashup of various facets and coded elements. What is coded and what is content facet should be discussed during the design phase. Whatever is colour coded below is what the content autor can modify. Depending on the design tis may look very different based on needs but is just here as a sample.